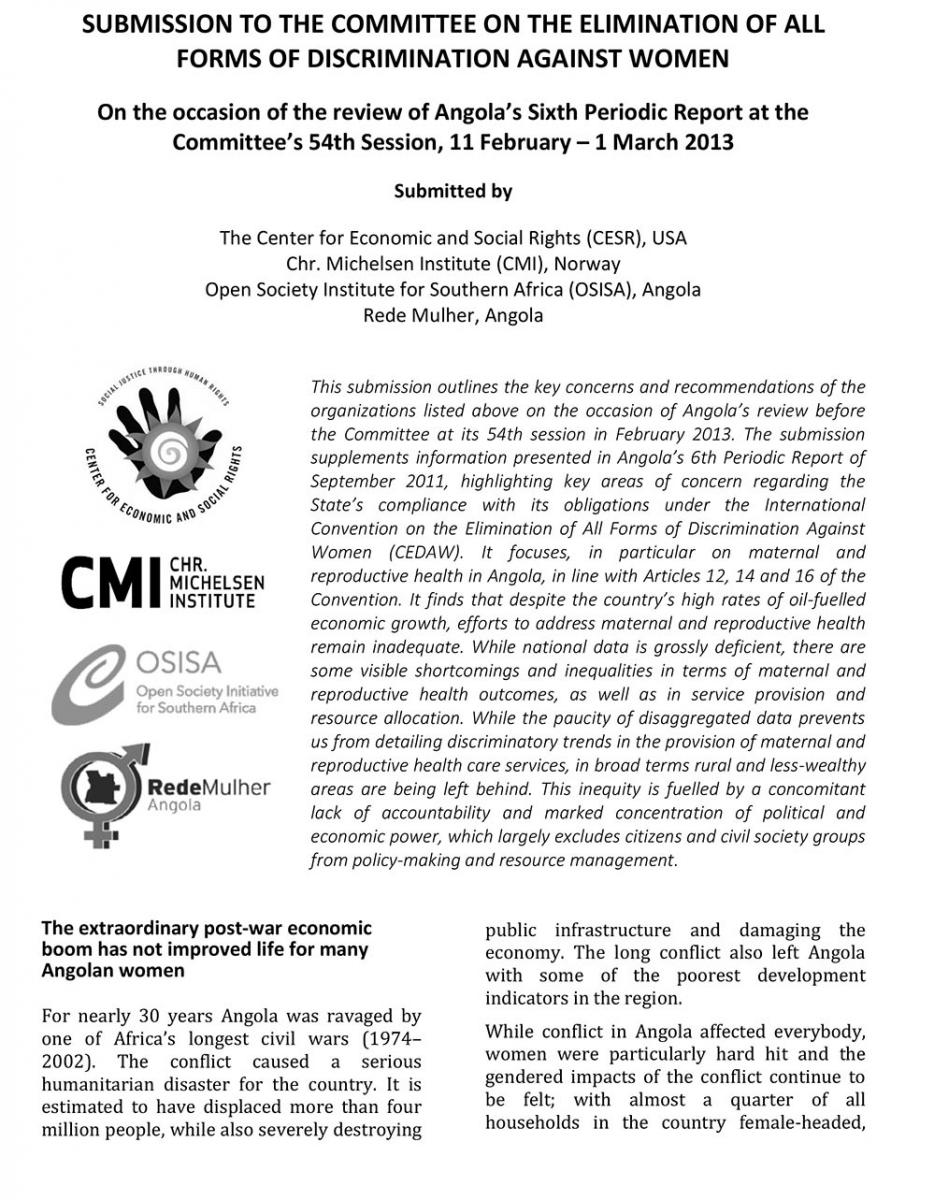 Despite dramatic levels of economic growth, ordinary people in Angola do not seem to be benefitting from the torrent of revenue flowing from their homeland's robust oil sector. A new UN submission produced by CESR, together with its partners the Open Society Institute of Southern Africa, the Chr Michelsen Institute and Rede Mulher Angola, draws particular attention to the country's lacklustre performance in the area of maternal health and reproductive rights.
The report, which was produced ahead of Angola's appearance before the United Nations Committee on the Elimination of Discrimination Against Women (CEDAW) on February 20, clearly illustrates the continuing gender disparities in the country and how these play out in the health sector. Insoding, it highlights key areas where Angola may have failed to comply with its obligations under the International Convention on the Elimination of All Forms of Discrimination Against Women.

CESR's research shows that, despite the country's spectacular rates of economic growth, efforts to address maternal and reproductive health remain inadequate. By deploying the Center's Opera Framework for assessing compliance with economic and social rights, the document throws into relief shortcomings and inequalities in terms of maternal and reproductive health outcomes, as well as in service provision and resource allocation. It demonstrates that a lack of accountability, together with a marked concentration of political and economic power which serves to exclude citizens and civil society groups from policy-making and resource management, is fuelling this dynamic. This counters the claims of government delegates in Geneva that a lack of available resources has impeded progress, showing instead that the distribution and allocation of existing resources is central.

Soon after the February 20th session, the Committee will deliver a set of recommendations which the government of Angola is obliged to implement. It is to be hoped that these recommendations will promptly be translated into meaningful improvements in the lives of ordinary women in the resource-rich country.

Alongside the various country monitoring sessions held at CEDAW's 54th session, the Committee also staged a special half-day discussion on the issue of access to justice. CESR and its partners in the Women's Economic, Social and Cultural Rights Working Group, part of the global network ESCR-Net - were also active at this event, delivering a statement to highlight the critical importance of substantive equality and the particular problems facing women rights defenders in this regard.