"75 per cent of the world's total unpaid care work is performed by women, including housework, water and firewood collection, and caring for people such as children and the elderly"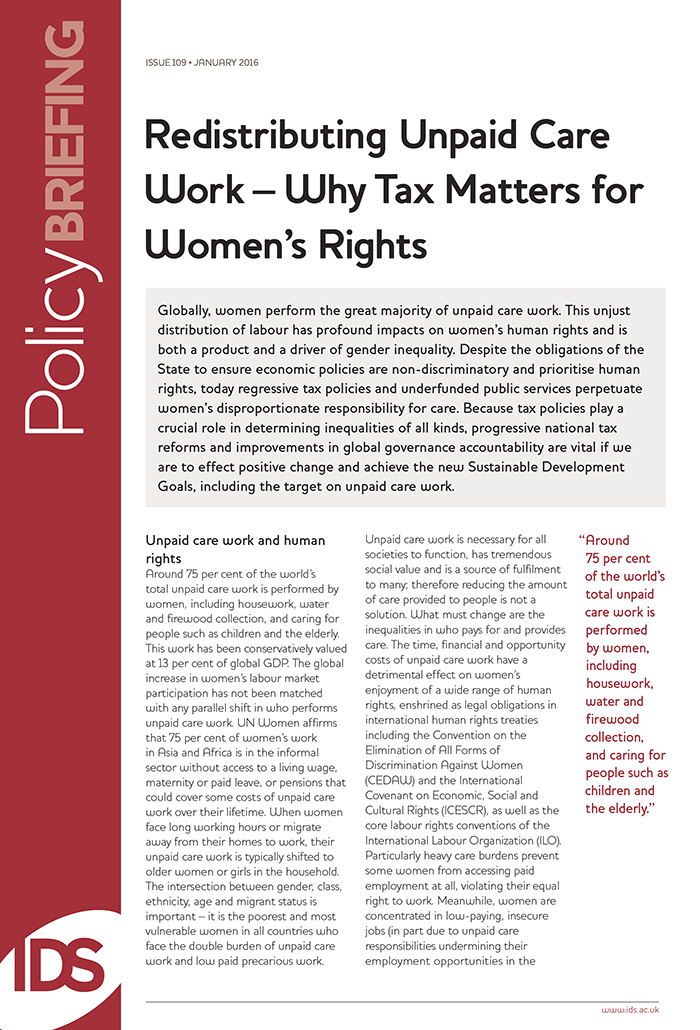 Around the world the great majority of unpaid care work – such as cooking, cleaning, collecting water and fuel, and caring for children and the elderly – is done by women. This unjust distribution of labor, which has profound impacts on women's human rights, is both a cause and a consequence of gender inequality and discriminatory social norms.


As CESR has repeatedly shown, tax policies play a key role in determining economic and social inequalities, including those that manifest in gender-based discrimination. A new policy briefing produced by the Institute for Development Studies and CESR outlines why it is so important to consider women's human rights and unpaid care work when designing tax policies and offers concrete suggestions for care-responsive reforms and policies. The authors, Rachel Moussié and CESR's Kate Donald, argue that this task is particularly pressing in the light of efforts to achieve the Sustainable Development Goals (SDGs), which include a commitment for states to take on greater responsibility for unpaid care work. A progressive, human rights-aligned and care-responsive taxation system is vital to achieve these objectives.


The issue of how tax policies affect women's human rights, and help or hinder progress towards gender equality, should be a primary concern for the tax justice and human rights movement. Building on our cutting-edge work on tax justice and human rights, CESR is committed to advancing this agenda.
To learn more about CESR's work on human rights in tax policy, see here.

To learn more about CESR's work on the sustainable development goals, see here.