Dear CESR community,
We are extremely proud to announce that Meghna Abraham will be joining the Center for Economic and Social Rights (CESR) as our new Executive Director. Meghna's appointment concludes a thorough international search process co-led by our team and board.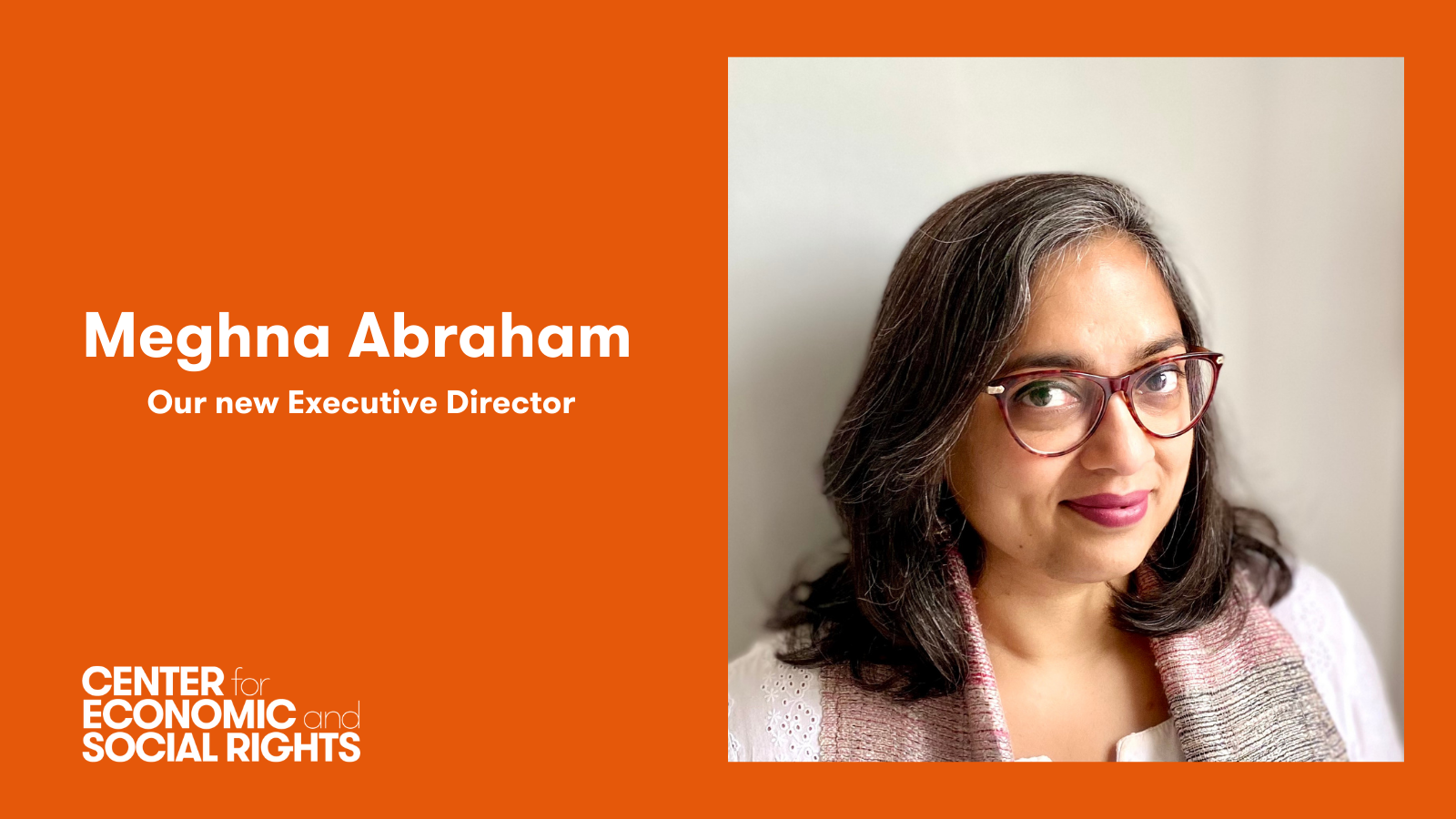 A proven and respected human rights leader from the Global South, Meghna brings a 20-year track record of developing successful research, campaigns, and advocacy to tackle major economic and social rights issues, and a passion for challenging inequality, environmental damage, and corporate abuses of human rights. She previously worked for Amnesty International, the Natural Resource Governance Institute, the Centre on Housing Rights and Evictions, and other organizations.
We welcome our new Executive Director at an exceptional moment in CESR's history. In recent years, and amid intersecting global crises, we have seen an unprecedented collective push for a different kind of economy that puts people and the planet first. Along with our partners and allies, CESR is showing how human rights can support efforts to transform our economies to be fair and equitable. Meghna's background, knowledge, vision, and ambition equip her with the skills needed to keep fueling the efforts to make a Rights-Based Economy a reality and embody equity and justice in our work and workplace.
"It is an honor to be appointed the Executive Director of CESR, an organization I have always admired because of its path-breaking efforts to use human rights to challenge and transform economic systems. The multiple global crises we are confronting, from climate, inequality, food, and health, require urgent and systemic changes to how resources are distributed between and within countries. I look forward to working with the team, the Board, and all of CESR's partners to collectively advance a Rights-Based Economy which can ensure the realization of human rights for all and the protection of the planet", stated Meghna Abraham.
CESR's Board and staff would like to express their deepest gratitude to our Director of Program, Kate Donald, for her dedication and professionalism in acting as our Executive Director while the search was underway. In addition, we would also like to reiterate our appreciation for our former Executive Director, Ignacio Saiz, whose leadership was key to getting CESR where it is today.
As Meghna starts her journey with us this August, you'll be hearing directly from her in the upcoming weeks, so watch this space.

Welcome to the team, Meghna!

CESR's Board