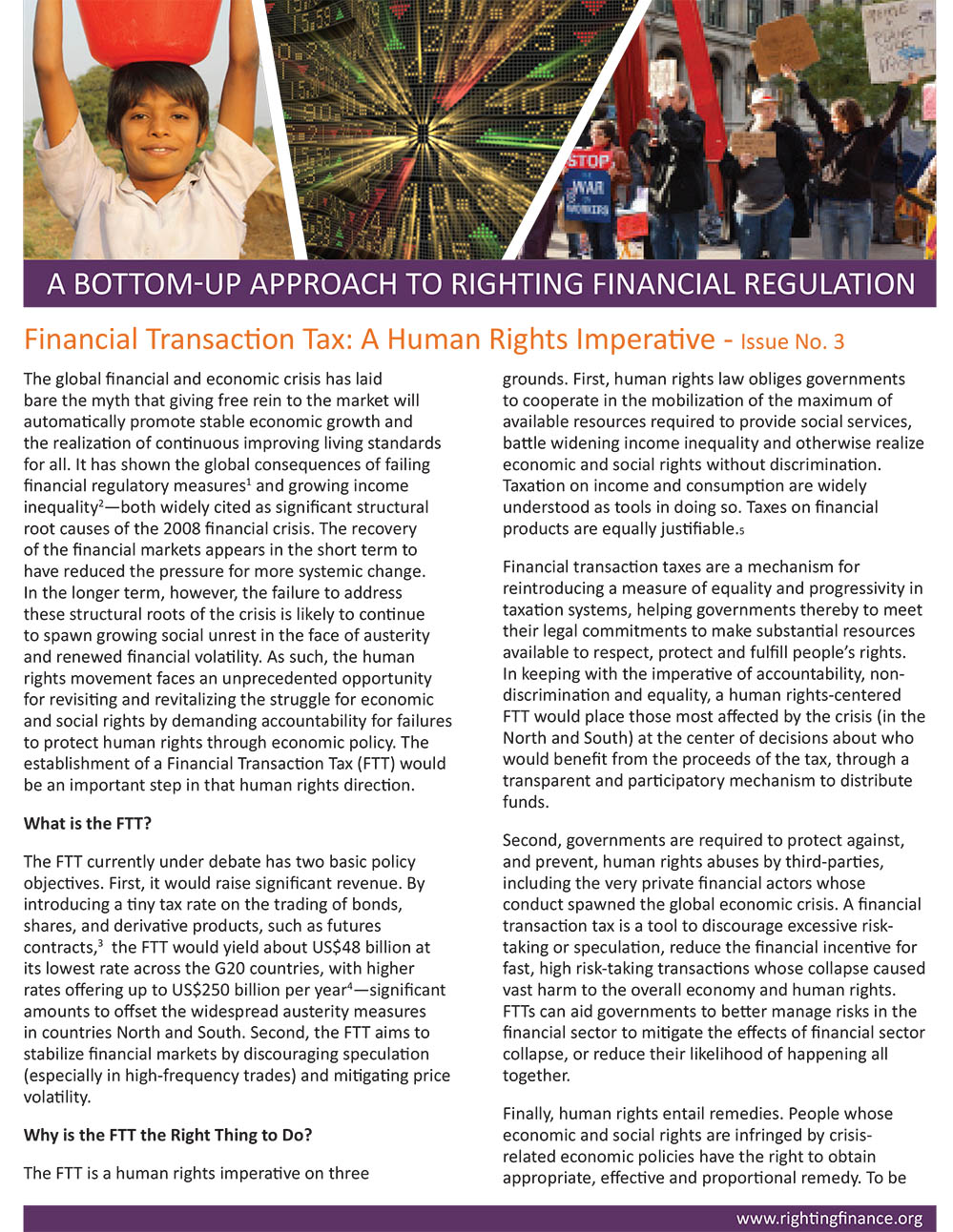 As the global economy continues to teeter on the edge of another downturn, the need for greater financial regulation and for more equitable ways of generating public revenues in times of austerity have become even more apparent.
In this context, the establishment of a Financial Transactions Tax would mark an important step in the direction of social justice. By levying a minute charge of trading in bonds, shares, and derivative products, the FTT could raise billions of dollars which could then be deployed to offset the austerity measures currently being implemented in many countries. Moreover, it would also help discourage the kind of opportunistic speculation which helped cause the crisis in the first place.
As confirmed by several UN independent human rights experts, the implementation of an FTT would represent an important step towards more meaningful accountability for past failures to protect human rights through economic policy. It would also be in keeping with both the duty to protect economic and social rights in that it would help prevent further economic instability and the obligation to international cooperation and assistance as it gives meaning to the obligation to cooperate to mobilize the maximum of available resources for the realization of human rights.
With these facts in mind, CESR is delighted to present the third briefing in the 'Righting Financial Regulation' series. This succinct document gives an overview of how the FTT would work and the benefits it would provide. More importantly, it also explains why the FTT represents a critical tool for governments if they are to comply with their obligations under international human rights law.
Resources:
The Righting Financial Regulation initiative is a joint venture bringing together the Center for Economic and Social Rights, Center for Concern, Social Watch, the Association for Women's Rights in Development, Civicus, DAWN, ESCR-Net, and the Brazilian Institute of Social and Economic Analysis (Ibase)