On April 21st, CESR participated in a discussion hosted by ESCR-Net's Strategic Litigation Working Group on Human Rights Law and a Just Recovery from Covid. The discussion was set against the backdrop of the WTO's upcoming session in June to discuss the TRIPS waiver and the ongoing social and economic devastation wrought by the pandemic.
CESR Program Associate Ohene Ampofo-Anti was invited to make a presentation based on our Key Concepts primer on a rights-based recovery from Covid. The discussion was centered around two key questions: first, what constitutes a just recovery? And second, what does the legal framework of reparations, accountability, and non-repetition require?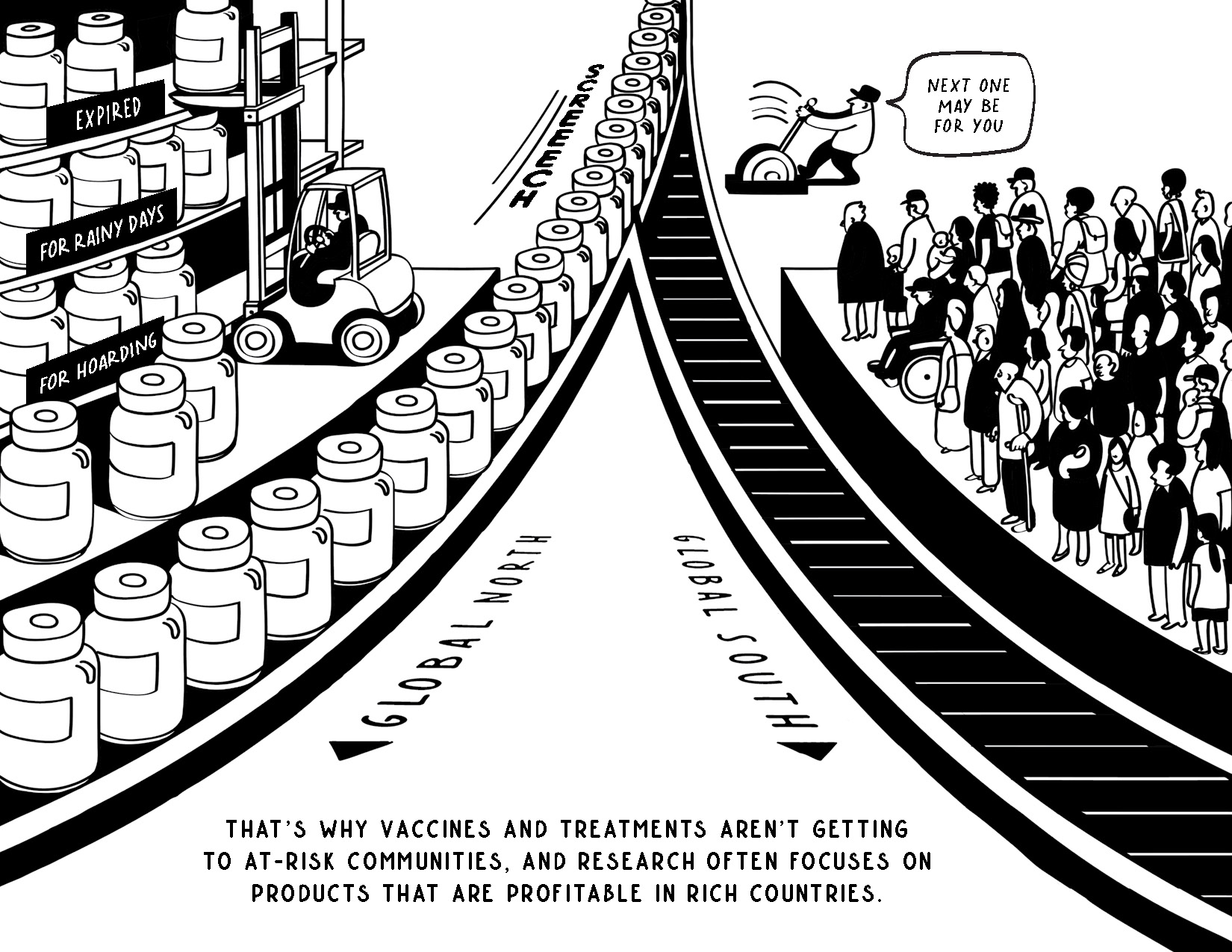 Image from ESCR-Net's corporate capture comic series
Responding to the first question, Ohene highlighted five key elements to a rights-aligned just recovery:
Fair, just and gender-responsive policies, such as proposed by CESR & partners' proposals re. Egypt before CEDAW and in the ESPI indicators.

Centering the right to equality and non-discrimination by leaving no one behind.

Strengthening participatory democracy by stressing the right of those most affected to participate in the decisions which have an impact on them.

Substantive and transformative equality which addresses systemic and intersectional discrimination and subordination such as CESR's work on vaccines and racial equity.

Resourcing rights by complying with the obligations to respect, protect and fulfill economic and social rights.
Responding to the second question, Ohene highlighted the importance of progressive tax reforms; investment in public services – including healthcare, education, transportation and social services – which also means rolling back austerity measures; strong social protection systems which leave no one behind and ease the burden of care; promoting responsible corporate conduct; and structural reforms to the global economic system.