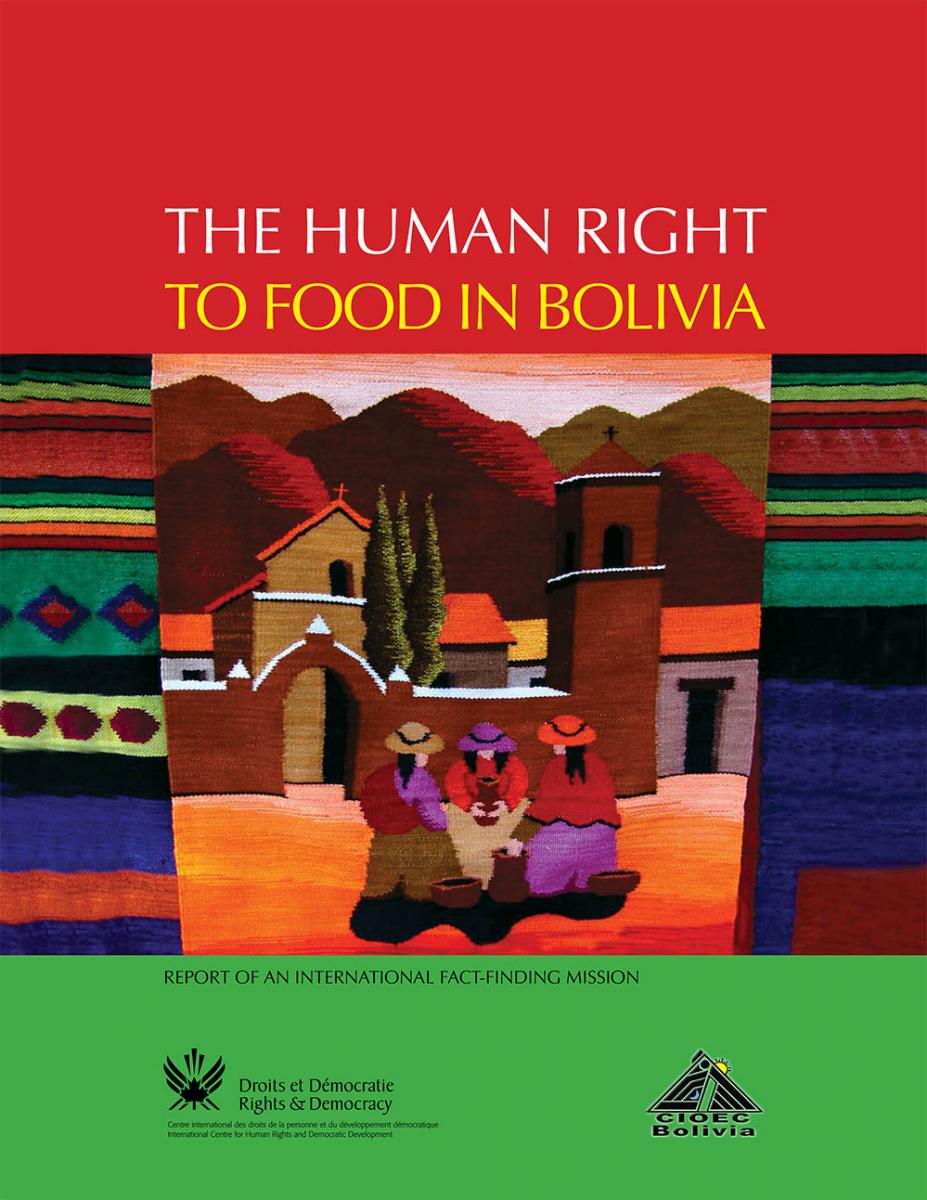 When you go to bed tonight, will you have to worry about finding enough food to eat tomorrow? For the majority of us this most basic of human needs is not a cause for too much concern. It is easy to forget, therefore, that nearly one billion people are forced to go hungry each day.

Each year on October 16, the Food and Agriculture Organisation collaborates in awareness-raising events around the world to mark World Food Day. The urgency of the situation cannot be understated, with recurrent food crises and 'silent emergencies' such as undernutrition continuing to lay waste to vulnerable communities all over the planet. Indeed, hunger is now regarded as the world's number one health risk, killing more people each year than AIDS, malaria and tuberculosis combined.

As part of CESR's efforts to protect the Right to Food, Senior Researchers Nicholas Lusiani and Sally Anne Way have collaborated on a new report examining hunger and food insecurity in Bolivia, produced by Rights and Democracy and the Coordinating Network for Rural Economy Organizations in Bolivia. Despite increasing revenues from oil and gas, and the efforts of a government committed to social advancement, Bolivia remains the most hunger-afflicted country in South America. It is CESR's hope that the human rights-based analysis presented in the document will help shed some light on the factors impeding full realization of the right to food in the country.

Of course, Bolivia is just one of many developing countries where the physical discomfort, ill health and psychological distress that come with hunger are a daily fact of life for poor households. According to the FAO, a staggering 925 million people do not have enough to eat. UNICEF meanwhile reveals that approximately 6.5 million children under the age of five lose their lives to malnutrition and hunger-related diseases each year; that's 18,000 each day, or 750 each hour. These sobering figures reflect a steady increase since 1996, when the international community first committed to reducing the number of people going hungry by half. This modest target, later formalised in the Millennium Development Goals, seems little more than a distant dream today.

In an increasingly globalized world, speculation on agricultural commodities and rising demand for biofuels play just as important a role in causing food insecurity as natural factors such as drought. Moreover, poor households are disproportionately affected by rising food prices, as they are obliged to spend a greater proportion of their income on meeting their dietary needs, and women and children tend to be particularly hard hit, with cultural and social factors likewise influencing nutritional outcomes.

This World Food Day, it behoves us to remember that there is more than enough food in the world to satisfy the needs of every man, woman and child on the planet. Hunger and malnutrition are not the inevitable result of natural factors, nor indeed the consequence of unfortunate but unpreventable 'acts of god'. Rather, they are the direct ramification of deliberate political choices made by those in positions of power. Addressing this shameful situation is not only possible; it is a moral and legal imperative.