The 66th session of the Commission on the Status of Women (CSW) took place last month, for the first time in its history adopting climate change as its primary theme. CESR joined allies in advocating for the recognition of the human rights impacts of climate change and environmental disasters on women, indigenous peoples, persons with disabilities, and more communities. Our Climate Justice Program Officer, Alina Saba, offers here a recount of the progress and challenges seen at the world's largest gathering on women's rights.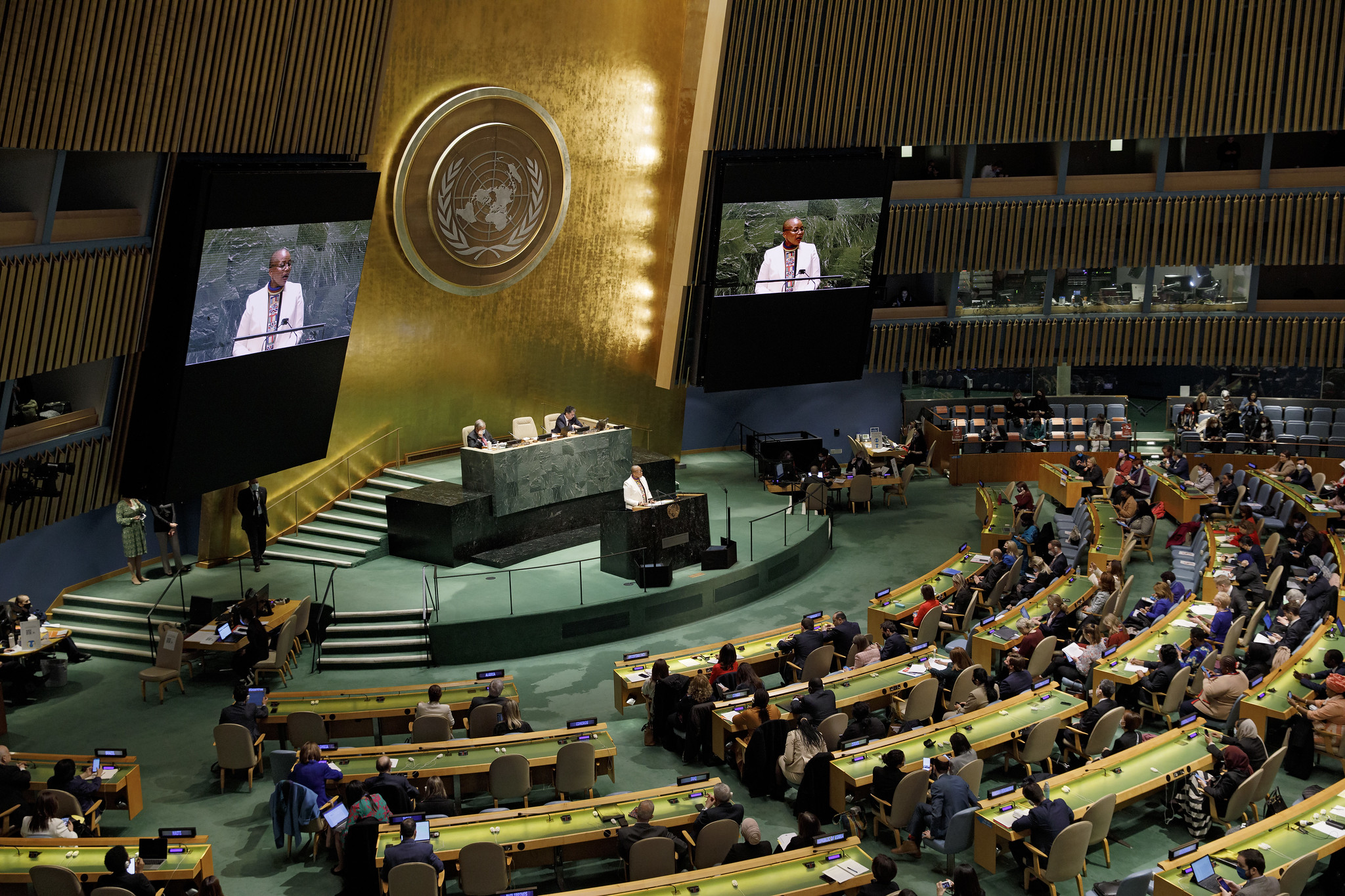 By: Alina Saba, Climate Justice Program Officer at CESR
The gathering was organized against a dark backdrop: including the invasion of Ukraine by Russia, increasing restrictions on abortion and trans rights in the USA, and South Korea's president-elect calling for abolition of the Ministry of Gender Equality. These events remind women's human rights defenders that our hard won gains are under continuous threat of conflict and backlash from misogynist right-wing leaders, conflict and militarism. As CESR, we took part in several activities at CSW 66 to call for a Rights-Based Economy that ensures the dominant economic system enables -and not hinders- the cause of climate justice and the rights of women worldwide.
As stated by the UN High Commissioner for Human Rights Michelle Bachelet in an event moderated by our acting Executive Director, Kate Donald: "Economies that put human rights at the center are the most prosperous. They choose to invest in social spending essential to protect and promote human rights. We need to follow this path."This UN Women event on advancing gender responsive policies also featured UN Women Chief Sima Bahous and ex-President of Ireland Mary Robinson, in dialogue with young activists Minal Bidar and Nyasha Phanisa Sithole. There was wide agreement among panelists of the systemic economic transformations needed to upend how women's rights are guaranteed.Meanwhile, at our Feminist Perspectives event, we explored how progressive taxation can advance an equal, green and feminist transition, and we also discussed how centering care can build a fair and sustainable future, and make conversations and negotiations around "loss and damage" far more meaningful and gender responsive.
Civil society had a meaningful and vocal presence at CSW, calling out the major culprits of the climate crisis and offering solutions underpinned by human rights. In terms of the official negotiations, there was a familiar yawning gulf between rhetoric and the concrete action plans, strategies and structural mechanisms for making such promises a reality. There is no avoiding that the Agreed Conclusions of CSW66 reads like a list of wishful promises and in many cases stops far short of the decisive action needed. However, despite the limitations, there were four areas in which the events and outcomes at CSW advanced the understanding and narrative around crucial issues which have remained contentious in climate negotiations and discussions:
1. Further recognition of the human rights impact of climate change: Climate change indisputably impacts all human rights guaranteed under the International Covenant on Economic, Social and Cultural Rights such as the rights to life, food, water, health, sanitation, decent work and an adequate standard of living. Building on the recent recognition of the right to a clean, healthy and sustainable environment at the Human Rights Council, CSW66 was successful in integrating human rights perspectives in addressing climate and disaster risk reduction policies including the protection of women human rights defenders working in issues of natural resources, environment and land rights. Putting climate change in a human rights perspective is critical in aligning the state's responsibility in taking climate action, both within and beyond its borders.


2. The Commission adopted recommendations on a gender-responsive just transition, with creation of decent work and quality jobs for women in sectors such as energy, forestry, and fisheries by eliminating occupational segregation. It also further recognizes women's unequal burden of care work in service sectors which is exacerbated by both climate change and the pandemic. Unfortunately, the mechanisms discussed for addressing did not always encompass human rights perspectives, focusing mostly on challenging societal and gender norms around who within the household takes the primary responsibility for care work, and leaving the question of redistribution to the State (e.g. via quality, accessible public care services) somewhat neglected. Civil society advocates, including CESR, pushed for treating care work as a human rights issue, and called for care work to be considered more centrally and rendered more visible in climate negotiations.
3. Discussions at CSW66 touched on the issue of gender-responsive climate finance, one of the most urgent issues for the climate justice movement. The Agreed Conclusions urge so-called "developed" countries to fulfill their failed pledge of USD 100 billion by 2020 and make further climate finance available. The recognition of challenges of access to climate finance by women's organizations and those on the frontlines - and demands for mobilization of climate finance for such groups— is central to a feminist approach to climate finance. It represents a shift from current climate finance trends, mostly targeted to large scale mitigation and energy projects with limited participation of women and vulnerable communities.
4. The outcomes also integrated the significance of closing resource gaps through both domestic and international resource mobilization and allocation, and calls for combating illicit financial flows and strengthening international cooperation. In this respect, it has definitely challenged the current structures of climate finance to become more accessible, accountable and inclusive. However, given the urgency and misplaced priorities of member States in addressing climate change, illicit financial flows and regressive fiscal policies, the agreed conclusions of CSW66 are far from enough. For example in Colombia, one of the most unequal countries in the world where social protection is severely under-funded, corporations (including extractive industries) benefit from tax incentives that amount to almost 10% of GDP. Similarly, Sri Lanka is currently facing a severe economic crisis fueled by deep tax cuts and economic fallout during the pandemic, in a context where the country's public debt was 119% of GDP in 2021. Meanwhile, OECD countries and their dependencies are found to be responsible for global tax abuse of USD 220.5 billion a year. Therefore to address the policy - advocacy gap on resource mobilization, women's rights advocates, including CESR, strongly called for progressive taxation for a feminist and just transition.
The above developments were historic and progressive for CSW66, building the climate justice agenda leading up to COP27 (taking place later this year in Egypt) and beyond from a gendered perspective. However, with some exceptions (such as UN Women's "Feminist Plan" for sustainability and social justice, discussed in a high-level event moderated by CESR's Kate Donald) the solutions proposed often failed to take into account the sweeping impact of COVID-19 pandemic and its social and economic fallout. CSW66 would have been much stronger had it gone further beyond recognizing the human rights impacts of climate change to call upon State members to fulfill their obligations to people beyond their borders (extraterritorial obligations) and to mobilize maximum available resources to take decisive climate action to guarantee women's rights and substantive equality in the context of climate change.
The CSW events and discussions have given us the clear picture of the need for a human rights based framework for understanding and taking climate actions, including mobilization of climate finance and enacting a just transition away from fossil fuels. It has renewed our conviction that we need a transformative shift towards a rights-based economic system that works both for the planet and people, and deepened our understanding of the feminist climate actions needed as part of that shift.