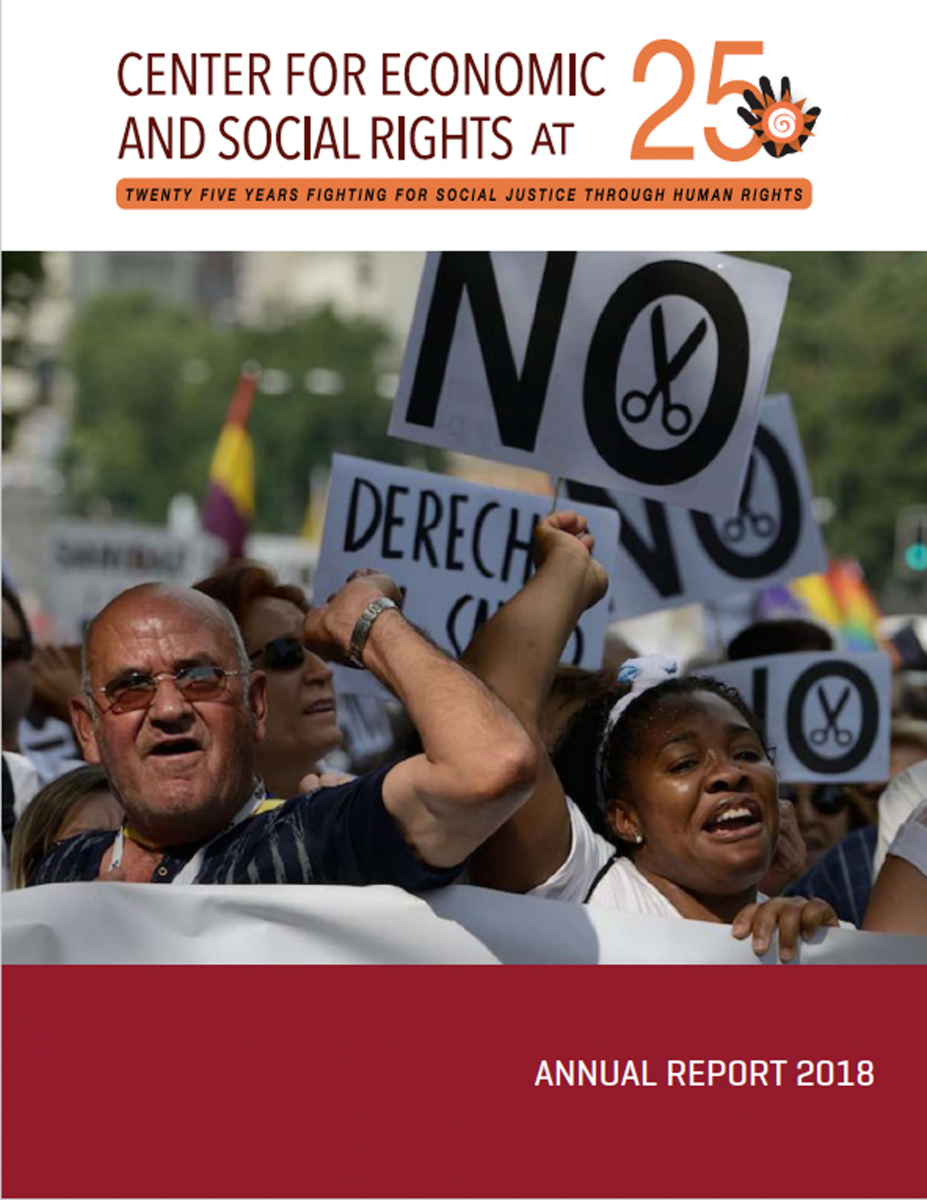 CESR's
annual report for 2018
surveys the impact of CESR's work in a milestone year that marked the twenty-fifth anniversary of our founding as the first international NGO committed to bringing human rights to the struggle for economic and social justice. We also observed the more somber landmark of a decade of austerity policies taking root in two-thirds of the world's countries since the 2008 global financial crisis. These harmful policy choices have driven widening inequalities and ongoing rights violations, as documented in many of the places where CESR works. This report highlights the changes that we made in countries around the world, in international human rights and development spaces, and in the broader field of social justice activism which we serve.
Throughout the year, we tackled extreme economic inequality as one of the most widespread threats to human rights of our time, waging the struggle on three key fronts: resisting austerity, promoting progressive tax policies and advancing sustainable development alternatives. We did this by conducting cutting-edge human rights and economic policy analysis and by working with diverse partners worldwide to hold governments and international institutions accountable for unjust fiscal and development policies. We also forged alliances with activists beyond the human rights movement, who also work for more equitable, sustainable and human-centered economies.
CESR led the way in assessing austerity's human rights impacts in places like Brazil and South Africa, achieving a victory with the restoration of universal healthcare access in Spain after eight years of austerity. We used powerful advocacy at international financial institutions such as the International Monetary Fund to call out the injustices of austerity, including the contradiction between the IMF's stated goals around women's empowerment and its austerity-fueling national loan conditions.
CESR provided leadership in several other areas. Long a leading human rights voice for progressive taxation that helps to reduce inequality and redistribute resources on the national and global levels, CESR spoke out against regressive tax policies in countries such as Brazil, Colombia, South Africa and the United States. CESR also spearheaded efforts to equip human rights defenders with innovative tools for monitoring economic and social rights and demanding accountability in the context of the 2030 Agenda for Sustainable Development. In Egypt, we worked with civil society groups to propose new metrics of development progress aligned with the country's economic and social rights obligations.
In 2018, CESR collaborated closely with human rights and development organizations, institutions and networks in more than a dozen different countries, developing partnerships that challenged the injustices of fiscal austerity, tax abuse and extractive development models. Our distinctive partnership model, which prioritizes mutual skills-sharing, collaborative research and advocacy methods, and jointly-branded publications, was highly valued by our collaborators. We also fostered much-needed dialogue on the ways in which the human rights movement can work in closer synergy with other movements striving for economic and social justice to confront common threats.
The 2018 annual report provides a vivid illustration of the range of ways in which CESR brings human rights to the struggle for economic and social justice. Rich with concrete examples of work that skillfully supports the recognition and enforcement of economic and social rights worldwide, we hope it inspires continued enthusiasm for employing human rights as a powerful tool for promoting social justice and human dignity.