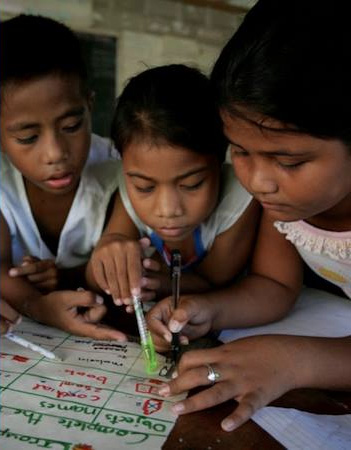 In recent months, CESR has been sharing its OPERA framework – a blueprint for combining quantitative and qualitative evidence to visualize the scope and scale of chronic deprivations of economic and social rights and identify areas for law and policy reform – with our partners in various regions. Given that the causes of economic and social rights violations are often systemic and indirect, the value of OPERA is that it assists human rights advocates and activists in teasing out the links between poor social and economic policies and poor human rights outcomes. And we're please to report that uptake of this new methodological framework has been enthusiastic among CESR's partners in the field.
There was much evidence of this at a side event, held on 8 May 2013, at the annual meeting of the International Coordinating Committee of National Human Rights Institutions. Organized by CESR and our partners the Asia-Pacific Forum (APF), the side event examined the role NHRIs can play in advancing economic and social rights. At the event, representatives from the New Zealand Human Rights Commission and the Human Rights Commission of Malaysia (SUHAKAM) presented examples of how they have incorporated OPERA into their work. Both institutions have participated in a pilot project, launched in late 2011 by the APF and CESR, to build the capacity of NHRIs to monitor and advocate for these rights by incorporating the OPERA framework into their work.

Dr Margaret MacDonald described how the New Zealand Human Rights Commission had used OPERA to guide its analysis of the Canterbury earthquake recovery, which focused on procedural issues around the right to housing. She also noted that using a human rights lens to analyze recovery-related policies empowered the community to demand greater accountability for decisions made about the rebuilding of the city. Mrs Nurul Hasanah said OPERA had helped SUHAKAM to incorporate more quantitative evidence-gathering tools into their research on the right to education for children with learning disabilities, and voiced her expectation that this would contribute to the drafting of concrete recommendations to government on the reforms needed in this area.

Just a few weeks prior to this, CESR Researcher Allison Corkery travelled to Malaysia to support SUHAKAM in advancing their research project. The visit included a strategy workshop with staff involved in the project, as well as a stakeholder forum bringing together representatives of both the government and civil society organizations.

In late June, CESR explored how OPERA could be applied in the context of treaty body reporting with a group of young human rights activists in Ljubljana, Slovenia. The group, brought together by the Ekvilib Institute, completed a six-week training program on Strategies and Skills to Monitor Economic, Social and Cultural Rights. Their goal is to collaborate on a shadow report for Slovenia's next review by the Committee on Economic, Social and Cultural Rights that challenges the harsh austerity policies their government has recently adopted.

Nevertheless, it is impossible to connect face-to-face with all of the diverse organizations and individuals who are advancing thinking on economic and social rights monitoring. For this reason, CESR together with ESCR-Net has set up a new International Working Group on Monitoring that brings activists, practitioners, and academics from around the globe together to share economic and social rights monitoring skills, experiences and methods.

The group is currently exploring options for designing an online platform where members can connect to exchange ideas, build knowledge, share good practices and discuss critical issues around economic and social rights monitoring. The goal is to create a platform that is open, collaborative and user-driven. Those with interest in this area are invited to complete a short survey about how the platform might best respond to your priorities and needs.