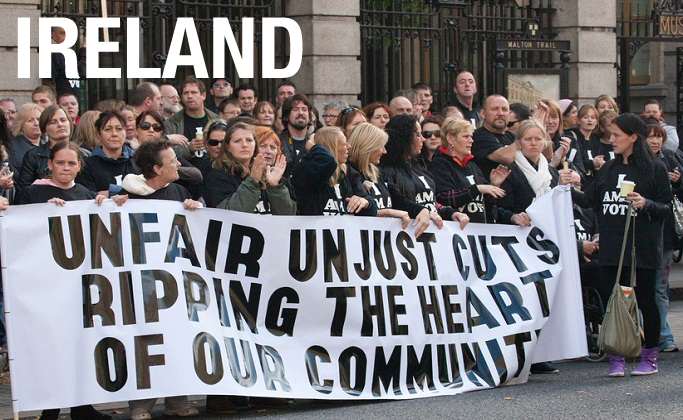 For many people in Ireland, the Celtic Tiger represented more than a successful economic model. Having long suffered the twin blights of poverty and unemployment, the boom years of the 1990s and early 2000s symbolized a dramatic reversal of fortune that brought with it a newfound confidence and optimism.
A CESR briefing analyzing the country's social and economic policies during these years throws into question whether the governments of the time were all that committed to the wellbeing of ordinary people, however. The document, produced as part of CESR's ongoing work on the human rights impacts of the global economic crisis, explores both the causes and consequences of Ireland's recession from a human rights perspective. It is intended to support the advocacy efforts of Irish civil society in the context of Ireland's appearance before the United Nations Universal Periodic Review.
CESR's research shows that the recovery policies implemented in the wake of the collapse have been markedly retrogressive in character, severely undermining what gains had previously been made in realizing economic and social rights. A series of austerity budgets, drawn up in conjunction with the IMF and EU, have been characterized by harsh cuts in social spending and a pronounced aversion to tax increases, despite the fact Ireland remains one of Europe's lowest tax economies. Moreover, the fundamental human rights principles of transparency, accountability and participation were largely ignored in crisis response measures that promise to limit Ireland's economic wellbeing for many years to come. More worrying still is the fact that when the crisis first broke state institutions responsible for the protection of human rights were immediately subjected to disproportionate reductions in funding.
CESR believes that the wellbeing of ordinary Irish people must be placed at the center of both the design and implementation of economic and social policies. Moreover, human rights principles offer the best framework for the achievement of an equitable and sustainable recovery that not only protects the human rights of people in the country, but also ensures they cannot be unnecessarily prejudiced in the future.
Photo courtesy of William Murphy, (c) flickr.