Chevron Corp., which prevailed in a human-rights lawsuit seeking to hold it responsible for the shooting of Nigerian protesters at an oil platform, is seeking nearly $500,000 in legal costs from the villagers who brought the suit, the Los Angeles Times reported this week.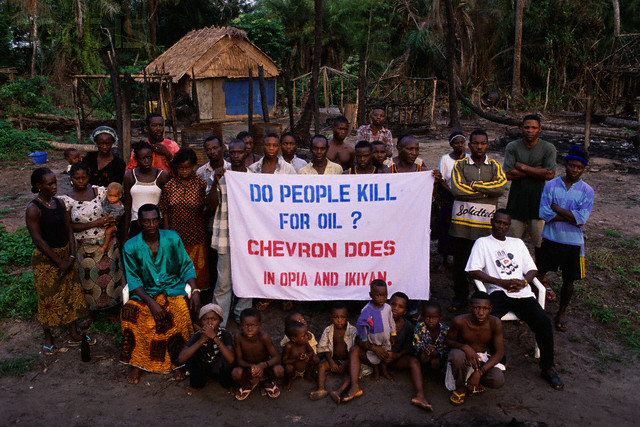 Lawyers for the villagers had sought to hold the oil giant responsible for the 1998 shooting and mistreatment of protesters by Nigerian soldiers at the Parabe oil rig off the coast of Nigeria. They have filed an appeal in the case, which is scheduled to be heard next month.
Advocates and lawyers for the Nigerians said they were outraged by Chevron's attempt to seek money from the plaintiffs, including one who was shot and wounded, another who was arrested and tortured and others whose husbands or fathers were killed.
Laura Livoti, founder of San Francisco Bay Area-based Justice in Nigeria Now, said the $485,000 sought by Chevron, California's largest company, would constitute a fortune for the Nigerians. That sum would be enough to sustain at least four villages in the Niger Delta for a year, she said.
"Chevron's attempt to squeeze nearly half a million dollars out of poor villagers who don't even have access to clean drinking water and who had wanted jobs with the company is a dramatic illustration of Chevron's heartlessness," Livoti told the Los Angeles Times.
In 2002, the Center for Economic and Social Rights and the Social and Economic Rights Action Center prevailed before the African Commission on Human and People's Rights in a legal case against the Nigerian government, for violations of the economic and social rights of the Ogoni people in the Niger Delta committed more than six years earlier.
The Commission acknowledged that the military government of Nigeria was directly involved in oil production through the state oil company, the Nigerian National Petroleum Company (NNPC), the majority shareholder in a consortium with Shell Petroleum Development Corporation (SPDC), and that these operations caused environmental degradation and health problems resulting from the contamination of the environment among the Ogoni People.
Further, the Commission found the Nigerian government guilty of economic, social and cultural rights violations against the Ogoni people in connection with state violence and abuses around oil development in the Niger Delta. The Commission also made recommendations for the current government to take remedial action for those violations.